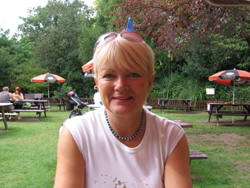 Jenny is Child Mental Health Worker on the national specialist team on Autism Spectrum Disorder (ASD) at the Maudsley Hospital. Her work here includes setting up and speaking at training programmes for parents and professionals, advising and supporting adults with ASD, taking part in clinical research projects, visiting schools and advising other professionals on ASD. Jenny has produced a parent pack of information for parents whose children have received a diagnosis of ASD.
After being awarded an honours degree in Psychology in 1998, Jenny worked with a research psychologist investigating cognitive functioning in children with ASD before joining the Maudsley team.
Jenny has worked as autism advisor to a special school and a children's charity as well as ASD specialist trainer for a mental health training practice and as a consultant with Tribal Education, designing a model of inclusion for ASD in mainstream schools for a London borough.
Jenny also has a post-graduate diploma in counselling and psychotherapy (integrative) and offers appropriate counselling and therapy to individuals with ASD and other family members. Jenny plans to complete her Masters Degree this year - an investigation into alleviating anxiety in individuals with ASD.
For some years Jenny chaired the National Autistic Society's London Regional Forum and is herself the parent of a young adult with high-functioning autism. Jenny has over 14 years' experience of working with ASD, setting up a local support group, counselling parents, giving practical advice and guidance on communication, educational provision and approaches to understanding and managing problematic behaviours.
Spring 2006